Recognizing all stages of Lyme disease and what to do after a tick bite
Do you know the many early signs and symptoms of Lyme disease, how to recognize the rash and what to do when bitten by a tick? Are you aware of the varied manifestations of disseminated Lyme disease and when to see a doctor?
The first signs and symptoms of Lyme disease
In the first early localized stage of Lyme disease the skin at the site of the tick bite becomes infected with Borrelia burgdorferi bacteria. The initial infection can cause an expanding round or oval red skin lesion called erythema migrans and associated flu-like symptoms within days to a month after the tick bite. Early symptoms can include achiness, chills, fever, sweats, fatigue, malaise, headache, stiff neck, muscle soreness, joint pain, swollen lymph nodes, and sore throat. The combination of the skin lesion and flu-like symptoms are the primary manifestations of acute stage Lyme disease, although the rash and flu-like symptoms are not always present.
Acute Lyme disease is not associated with typical cold-like symptoms of runny nose, prominent cough, or prominent diarrhea.
Consider early Lyme disease with these signs & symptoms
Round expanding red skin lesion usually greater than 2 inches in size
Rash lasts for more than a few days and can be accompanied by flu-like symptoms
Early symptoms can mimic summer flu: fever, achiness, extreme fatigue, severe headache or neck ache
Recognizing a Lyme disease rash
It is important to understand that a rash is not always present or easily recognizable in early Lyme disease, and this can lead to delayed diagnosis and treatment.
Please refer to our poster of varied Lyme disease rash manifestations as a helpful rash identification tool.
It is wise to take a picture of the rash with the date for your medical record, since a rash compatible with erythema migrans rash should prompt urgent evaluation and treatment. Lyme disease is most successfully treated in this first stage.
Although a bulls-eye rash is a tell-tale sign of Lyme disease this is NOT the most common manifestation of a Lyme disease rash. It is important to know that the most common Lyme rash manifestation is a uniformly red round or oval rash that expands to greater than 2″ in diameter.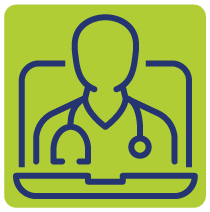 Bitten by a tick and have a rash?
Call our RASH HOTLINE at 410-870-5963 for a rash evaluation appointment.
If you have a suspicious rash or your symptoms persist, please seek medical care immediately.
Know what to do when bitten by a tick
More rash information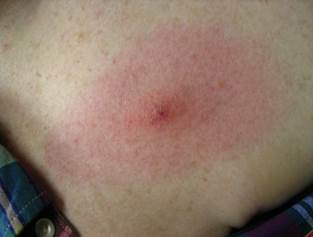 The Lyme disease rash, called erythema migrans, is:
Round or oval, enlarges in size over days/weeks, & will not fade in a few days
Usually greater than 2" inches in diameter, often 6-8"
Usually uniformly red
Sometimes but not often, a "bull's eye" rash with a red ring surrounding a clear area and red center
Minimally tender, minimally itchy (much less itchy than poison ivy), and sometimes warm
Often confused with spider bites
The incubation period from tick bite to rash is usually 3-10 days but can be 30 days.
The Lyme rash can spread through the bloodstream to other areas of the skin.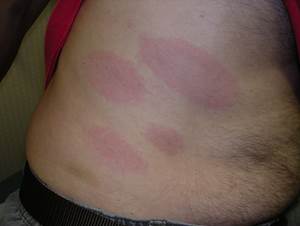 Sometimes blisters develop in the center of the Lyme disease rash.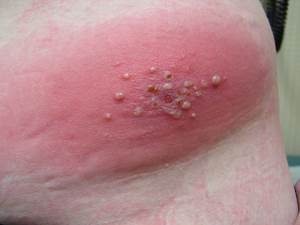 Tick bite reactions are often confused with the rash of Lyme disease. The photo below is a picture of a tick bite reaction which has not developed into a Lyme disease rash.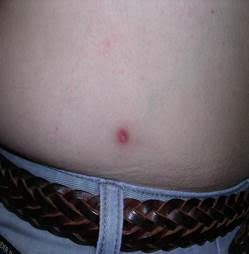 Tick bite reactions:
Are small red bumps, less than 1-2" in size
Appear at the site of the bite, often in the groin, belt area, arm pits, or behind the knee
Do not expand in size when observed over 24-48 hrs
May feel warm and tender to the touch
Can last days, even weeks
Systemic signs and symptoms of disseminated Lyme disease
Include:
Severe fatigue, musculoskeletal pain, neurologic symptoms and cognitive impairment
Cardiac problems, including life-threatening inflammation of the heart called carditis
Facial palsy, meningitis, and headaches
Swollen knees and Lyme arthritis
Second stage signs and symptoms of Lyme disease
The symptoms of second stage, early disseminated, Lyme disease can be difficult to attribute. Symptoms include severe fatigue, fever, pain, intermittent weakness and achiness of the muscles and joints, numbness in arms and legs, vision changes, and cognitive dysfunction such as short-term memory difficulties and problems multitasking. These symptoms are not specific for Lyme disease and can make the diagnosis of second stage Lyme disease very challenging.
More pronounced and recognizable Lyme disease nervous system manifestations include facial paralysis (Bell palsy), or meningitis with severe headache and stiff neck. Notable cardiac manifestations include passing out or feeling faint from an abnormally slow heart rate, irregular heart palpitations, or unexplained difficulty tolerating exercise.
Meningitis and carditis are both potentially serious Lyme disease conditions and warrant immediate medical attention.
Third stage signs and symptoms of Lyme disease
Late stage disseminated Lyme disease can result when treatment is unsuccessful or started too late due to unrecognized symptoms or misdiagnosis. The late disseminated stage occurs months or years after initial infection and can have a major impact on a patient's health and quality of life.
Late Lyme arthritis is a third stage Lyme disease manifestation that involves fluid accumulation and pain in joints, particularly in the knee joints.
Late neurologic Lyme disease is a third stage condition that can also be debilitating and difficult to diagnose. Late disseminated neurologic symptoms include numbness in extremities, mental fogginess and concentration problems, slower processing speed, and difficulty following conversations.
When should I go see my doctor?
Anyone who has been bitten by a black-legged deer tick is at risk for Lyme disease. The highest risk groups include those living in or visiting endemic areas, especially people who spend significant time outdoors such as children, gardeners, hikers, or outdoor workers.
Patients should seek advice from their doctor if they have a suspicious round expanding red skin lesion, and/or show signs of summer-flu, particularly during Lyme disease season, which is highest-risk during May through August. If those circumstances apply (rash, summer-flu) or symptoms persist it is very important to go to a physician.
Despite higher risk being late spring through summer, Lyme disease can be contracted year-round, and Lyme disease is especially a year-round concern on the west coast and other more temperate regions.
In the later disseminated stages, Lyme disease can be a much more insidious and complex illness.
An individual should seek medical care if experiencing symptoms such as prolonged fevers, unexplained fatigue, painful joints, new or unusual headache, or heart or neurologic symptoms. If unexplained viral-like symptoms last for more than 1-2 weeks, please seek the advice of a physician.
IF YOU ARE DEPRESSED OR HAVE SUICIDAL TENDENCIES
Call 911
Go to the nearest emergency room
Call 988 – The Suicide & Crisis Lifeline. Available 24 hours/day
Call 1-800-273-8255 – The National Suicide Prevention Lifeline. Available 24 hours/day
Text HELP to 741-741 – Crisis Text Line. Available 24 hours/day