What is the treatment for Lyme disease?
The first-line standard of care treatment for adults with Lyme disease is doxycycline, a tetracycline antibiotic. Other antibiotics that have activity against borrelia include the penicillin-like antibiotic, amoxicillin, and the second generation cephalosporin, Ceftin. The mainstay of treatment is with oral (pill) antibiotics, but intravenous antibiotics are sometimes indicated for more difficult to treat cases of neurologic-Lyme disease, such as meningitis, and cases of late Lyme arthritis.
Why are antibiotics the first line of treatment for Lyme disease?
The use of antibiotics is critical for treating Lyme disease. Without antibiotic treatment, the Lyme disease causing bacteria can evade the host immune system, disseminate through the blood stream, and persist in the body. Antibiotics go into the bacteria preferentially and either stop the multiplication of the bacteria (doxycycline) or disrupt the cell wall of the bacteria and kill the bacteria (penicillins). By stopping the growth or killing the bacteria the human host immune response is given a leg up to eradicate the residual infection. Without antibiotics, the infection in Lyme disease can evade the host immune system and more readily persist.
What are the side effects of Lyme disease treatments?
Antibiotics, like all medications, have the potential for side effects. Any antibiotic can cause skin rashes, and if an itchy red rash develops while on antibiotics, a patient should see their physician. Sometimes symptoms worsen for the first few days on an antibiotic. This is called a Herxheimer reaction and occurs when the antibiotics start to kill the bacteria. In the first 24 to 48 hours, dead bacterial products stimulate the immune system to release inflammatory cytokines and chemokines that can cause increased fever and achiness. This should be transient and last no more than a day or two after the initiation of antibiotics.
The most common side effect of the penicillin antibiotics is diarrhea, and occasionally even serious cases caused by the bacteria Clostridium difficile. This bacterial overgrowth condition occurs because antibiotics kill the good bacteria in our gut. It can be helpful to use probiotics to restore the good bacteria and microbiome balance.
Prognosis
The prognosis after early treatment of Lyme disease is generally very good. However, the prognosis worsens when diagnosis and treatment are delayed.
Most patients with early Lyme disease infection recover with antibiotics and return to their normal state of health. However, some patients suffer from ongoing or recurrent symptoms related to Lyme disease despite standard of care antibiotic therapy.
A research study published by our Center in 2022 found that even when Lyme disease patients were early diagnosed and promptly treated (a best case scenario condition), 14% of the patients developed Post Treatment Lyme Disease (PTLD). PTLD patients have persistent functionally impairing symptoms 6 months or more following the end of treatment, including severe fatigue, body pain, and cognitive challenges. The results confirm that a Lyme disease infection can trigger PTLD despite early treatment with 21 days of the antibiotic doxycycline. This rigorously designed prospective controlled study validates that Lyme disease associated chronic illness is real and significant. The study's PTLD incidence of 14% compares with 4% in a healthy control group. Importantly, the risk of functionally impairing persistent illness would likely be greater than 14% in community (non-study) settings due to the complexity of real-world disease, which includes misdiagnoses and treatment delays.

What is Post Treatment Lyme Disease?
Post Treatment Lyme Disease (PTLD) represents a research subset of patients who remain significantly ill 6 months or more following standard antibiotic therapy for Lyme disease. PTLD is characterized by a constellation of symptoms that includes severe fatigue, musculoskeletal pain, sleep disturbance, depression, and cognitive problems such as difficulty with short-term memory, speed of thinking, or multi-tasking. In the absence of a direct diagnostic biomarker blood test, PTLD has been difficult to define by physicians, and its existence has been controversial. However, our clinical research shows that meticulous patient evaluation when used alongside appropriate diagnostic testing can reliably identify patients with a history of previously treated Lyme disease who display the typical symptom patterns of PTLD.
Symptoms of Post Treatment Lyme Disease
Include severe fatigue, musculoskeletal pain, & cognitive problems
Can significantly impact patients' health and quality of life
Can be debilitating and prolonged
Our research indicates the chronic symptom burden related to PTLD is significant. Although often invisible to others, the negative impact on quality of life and daily functioning is substantial for PTLD sufferers.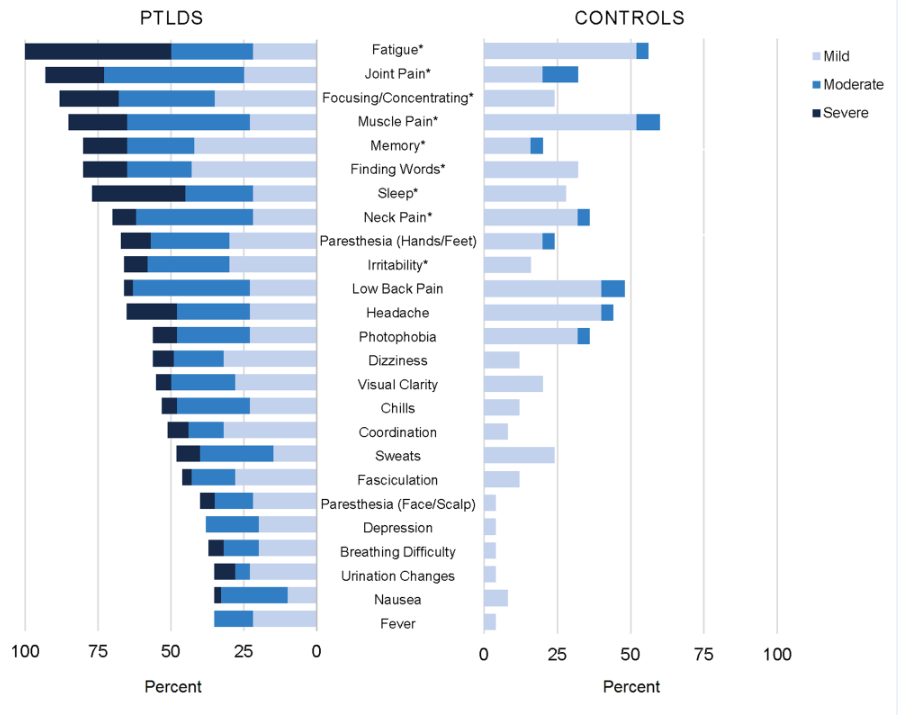 The chronic symptom burden related to Lyme disease is considerable, as shown on the left side of the graph above, and statistically significantly greater than the aches and pains of daily living experienced by the control group, on the right.
What are the risk factors for Post Treatment Lyme Disease?
Risk factors for Post Treatment Lyme Disease include:
Delay in diagnosis
Increased severity of initial illness
Presence of neurologic symptoms
Increased severity of initial illness, the presence of neurologic symptoms, and initial misdiagnosis increase the risk of Post Treatment Lyme Disease. PTLD is especially common in people that have had neurologic involvement. The rates of Post Treatment Lyme Disease after neurologic involvement may be as high as 20% or even higher. Other risk factors being investigated are genetic predispositions and immunologic variables.
In addition to Borrelia burgdorferi, the bacteria that causes Lyme disease, there are several other tick-borne co-infections that may also contribute to more prolonged and complicated illness.
What causes Post Treatment Lyme Disease?
The causes of PTLD are not yet well understood but can be multifactorial. Our Center is investigating the potential roles of:
Infection-induced immune dysfunction or auto-immunity
Chronic inflammation
Persistent bacterial infection or bacterial debris
Neural network alteration
Other tick-borne infections
Other biologic mechanisms of disease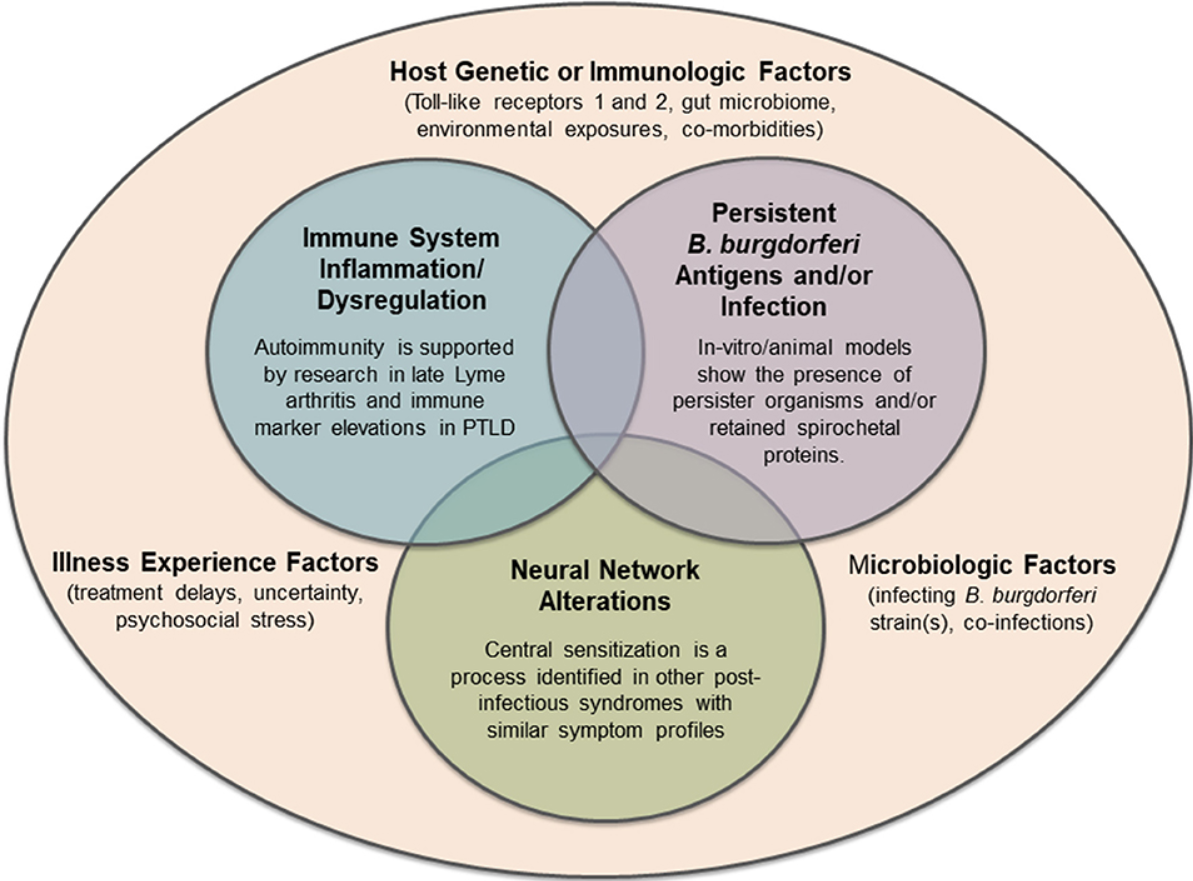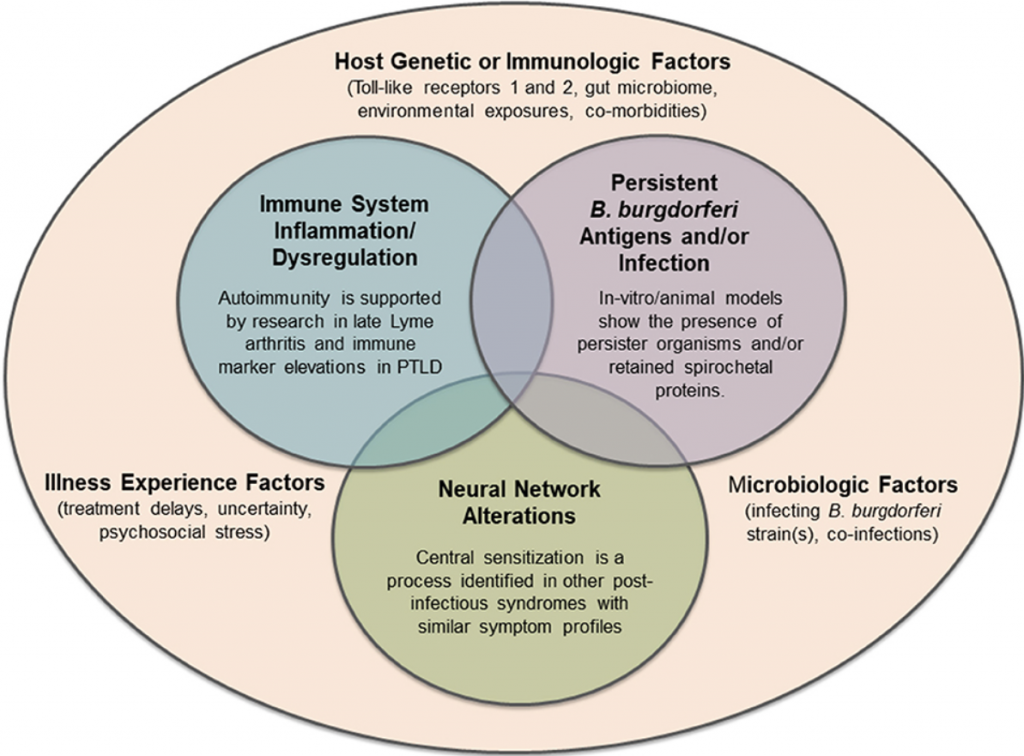 Our research has validated PTLD as a serious and impairing condition. However, the causes of PTLD are not yet well understood or validated, and the term PTLD does not mean post-infection or imply an assumption of underlying biologic mechanisms. The Lyme disease patient population is heterogeneous and the drivers of persistent illness can be varied and multifactorial. The roles of immune dysfunction, autoimmunity, chronic inflammation, persistent bacterial infection, persistent bacterial antigenic debris, neural network alteration, and other potential causative biologic mechanisms of PTLD are being investigated at our Center.
The persistent symptoms in Lyme disease can have a large negative impact on an individual's health and quality of life. Patients often call this condition chronic Lyme disease, although an agreed upon clinical case definition for chronic Lyme disease has proven difficult to reach a consensus on.
PTLD is a narrow definition designed specifically to facilitate research and discovery. Research results can be extrapolated and generalized when appropriate to the much broader group of patients with chronic or persistent Lyme disease. In the clinical context there is an ongoing debate about renaming chronic Lyme disease to another name such as Long-haul Lyme, persistent Lyme disease, or Lyme disease associated chronic illness. However, the clinical name should not limit research into underlying causes and biomarkers for this persistent illness. The patient's illness is real and the care of the patient remains paramount as we pursue multifactorial causes and a cure.
There are already an estimated 2 million patients in the US living with persistent or post treatment Lyme disease. With approximately 500,000 new U.S. cases of Lyme disease per year, the number of people experiencing chronic symptoms is a growing public health concern. Notably, many persisting Lyme disease symptoms overlap with other infection-associated chronic illnesses such as Long COVID and ME/CFS, and additional studies are needed to determine if they may share some common biologic pathways. Research at our Center aims to understand the biologic drivers of all manifestations of Lyme disease so that diagnostics can be improved, and more effective personalized treatments can be developed to enhance patients' health outcomes.
Is there a cure for Post Treatment Lyme Disease?
Currently there are no FDA approved treatments for the persistent symptoms in Lyme disease. Therefore, treatments must be individualized by addressing specific findings, symptoms, and circumstances for each individual.
New treatment approaches are needed to address the long-term symptoms associated with Lyme disease which can be debilitating to patients and costly to society. In 2022, our Center began its first two treatment trials for patients with Lyme disease infection associated chronic illness. These pilot clinical trials are made possible thanks to the generous support of the Steven and Alexandra Cohen Foundation. More information about these trials can be found in our 2022 Impact Report.
Late Lyme Arthritis
What is the prognosis for Late Lyme Arthritis?
Following antibiotic therapy, approximately 90% of late Lyme arthritis patients recover from extensive joint swelling, arthritis, and pain.
What happens if a patient doesn't recover from Late Lyme Arthritis?
After extensive antibiotic treatment, approximately 10% of late Lyme arthritis patients remain symptomatic with a condition termed antibiotic refractory late Lyme arthritis. Extensive research has shown that the bacteria can no longer be found in the tissue or fluid of this subgroup of patients. However, recent research shows that peptidoglycans, from parts of Borrelia burgdorferi's cell wall, can remain behind in patients' joints and trigger an immune reaction that could be perpetuating the inflammation observed in some Lyme arthritis patients.
Why are patients often referred to the Center?
Lyme disease encompasses a range of biologic processes and disease manifestations. Patients are often referred to the Lyme Disease Research Center for evaluation of chronic Lyme disease, an umbrella term that encompasses many heterogeneous subsets of illness. Examples of defined Lyme disease subsets include Post Treatment Lyme Disease (PTLD), and Antibiotic Refractory Late Lyme Arthritis. The mechanisms of these Lyme disease conditions are different and effective treatments need to be tailored accordingly.
Persistent symptoms of Lyme disease are similar to and overlap with other conditions involving fatigue, pain, and cognitive symptoms. Therefore, rigorous diagnostic evaluation is necessary to determine if Lyme disease could be the trigger for ongoing disease processes or if some other disease processes are involved.
Gaps in knowledge can lead to problems in clinical care. By distinguishing research subsets of Lyme disease, such as PTLD, our patient-centered clinical research program is illuminating the complex pathophysiology of the illness to improve diagnostics, treatments, and quality of life for patients.