What is Dysautonomia?
Dysautonomia is dysfunction of the autonomic nervous system.
The Autonomic Nervous System regulates:
Heart rate and blood pressure
Gut motility
Body temperature
Sweating
Tear production
What is POTS?
A common manifestation of dysautonomia is POTS or postural orthostatic tachycardia syndrome.
POTS is the result of impaired heart rate and blood pressure regulation that results in orthostatic intolerance. Orthostatic intolerance is the clinical manifestation of brain fog, fatigue, dizziness, and weakness made worse by prolonged standing.
Symptoms can include:
Brain fog
Severe fatigue and exhaustion
Profound weakness with prolonged standing
Racing heart
Exertional intolerance
Muscle aches
Dizziness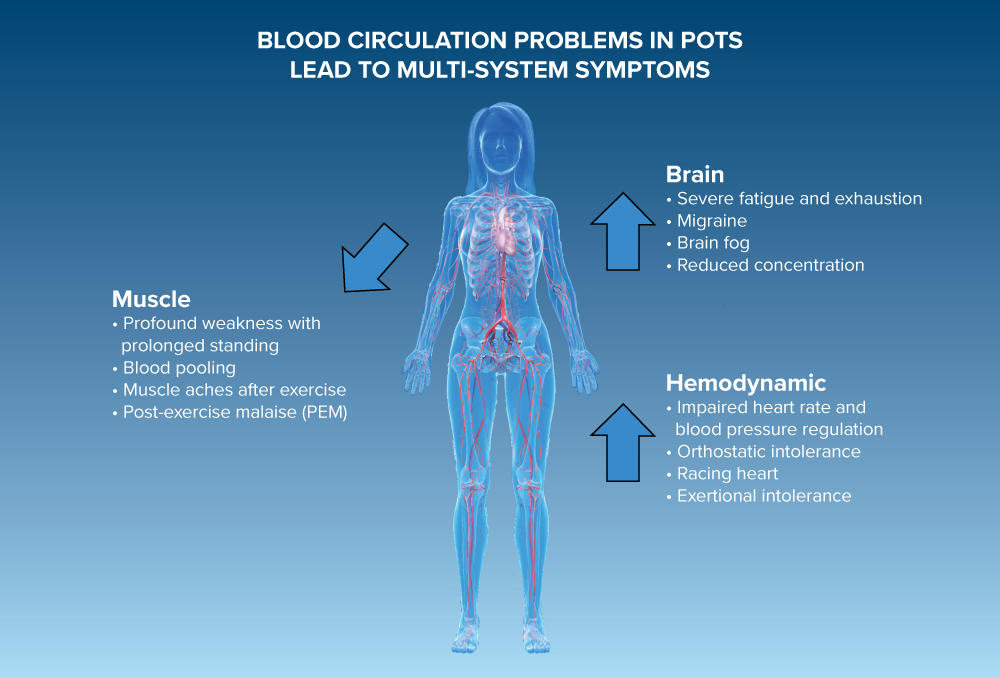 Can Lyme Disease cause POTS?
Yes, individuals may get dysautonomia and POTS following a Lyme disease infection.
What testing is available to clinicians to diagnose dysautonomia?
Tests for POTS
10 Minute Stand Test

Done in a doctor's office to measure blood pressure and heart rate while standing for 10 minutes

Heart rate increase of more than 30 beats per minutes with standing is diagnostic of POTS

Tilt table test

A more complicated test that includes continuous monitoring of heart rate and blood pressure while lying down and while suspended in an upright position on a tilt table

Transcranial Doppler Ultrasound

Measures the change in blood flow to the brain with tilt
Tests for other aspects of Dysautonomia
Motility testing for gastrointestinal dysautonomia

Determines what area of the gut is affected

Quantitative sudomotor axon reflex test (QSART)

Measures the nerves that control sweating

Skin biopsy to detect small fiber neuropathy, which is commonly present in patients with dysautonomia

Detects decrease in density of the small nerve fibers in the skin
What are the limitations of current diagnostics?
Dysautonomia is a dynamic disease that can wax and wane, and diagnostic tests on a patient's good day may not have positive findings despite the patient's history of symptom flares.
Potential Risk Factors for POTS
Genetic and autoimmune susceptibility
POTS disproportionately affects young women
Hypermobility or Ehlers Danlos Syndrome (EDS)
Treatments for Dysautonomia
Beneficial lifestyle approaches
Increased fluid and salt intake to optimize circulation and improve blood flow
Compression stockings
Abdominal binder to help pump blood back up to the heart and brain
Patient-tailored exercise programs designed for patients with dysautonomia since exercise may not be well-tolerated
Medications
Medications to improve gut motility
Medications to improve circulation

By increasing blood pressure

Medications to target autonomic nervous system
In clinical trials, immunomodulating medications such as IVIg (Intravenous Immunoglobulin) are being studied
Antimicrobials for ongoing infections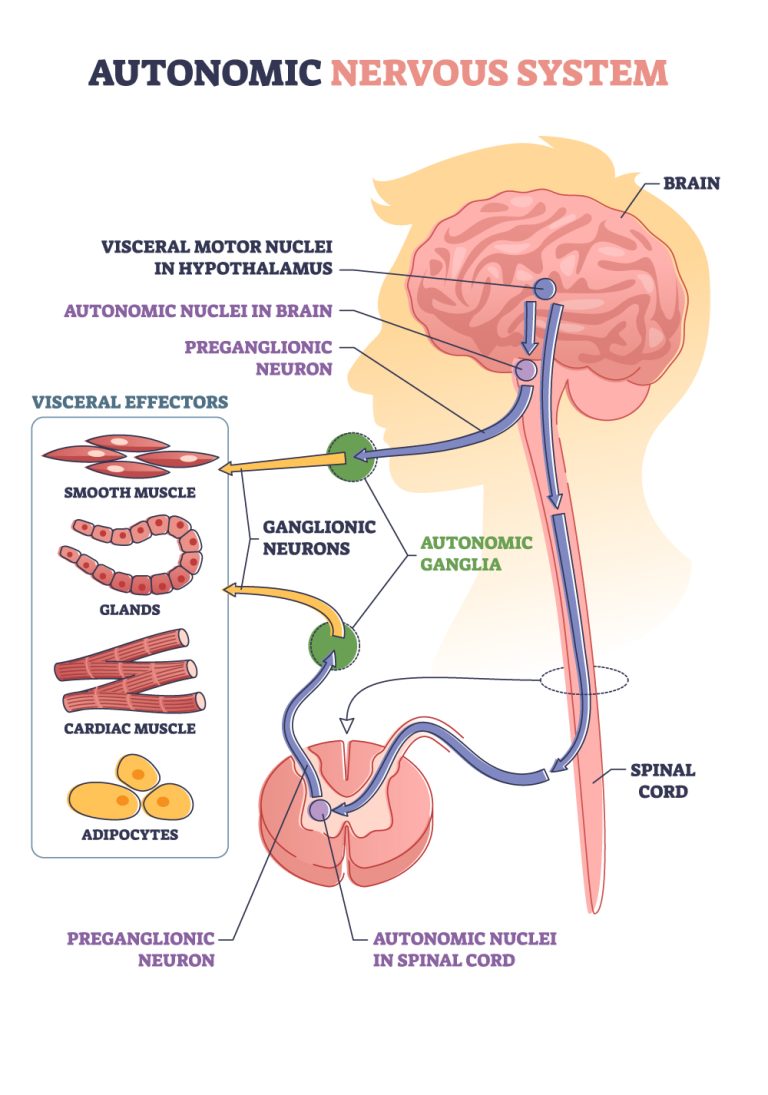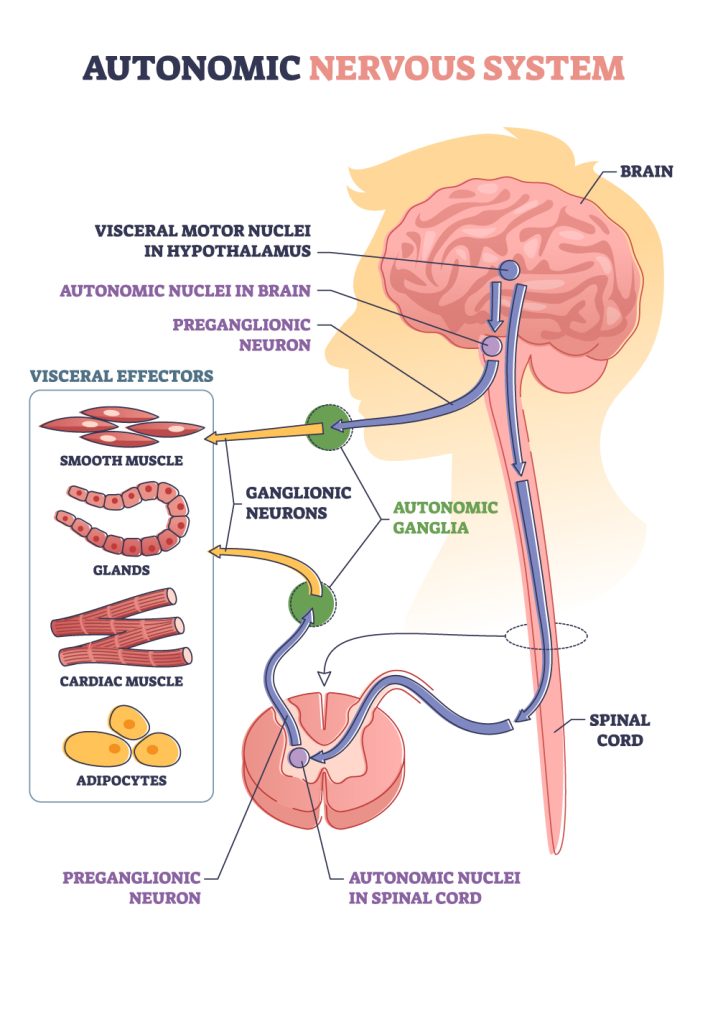 Many infections are associated with POTS. Different infection-associated POTS syndromes present with similar symptoms and may share common underlying mechanisms.
POTENTIAL MECHANISMS UNDERLYING INFECTION-ASSOCIATED DYSAUTONOMIA
The autonomic nerves or autonomic ganglia may be affected by:
Chronic infection
Autoimmune response triggered by an infection
Damage to autonomic nerves by an infection
Neuro-inflammation triggered by debris left-over after an acute infection is treated
CHRONIC ILLNESSES ASSOCIATED WITH POTS
Post Treatment Lyme Disease
Long COVID
Myalgic Encephalomyelitis/Chronic Fatigue Syndrome or ME/CFS
Sjogren's Syndrome
Systemic Lupus Erythematosus
Hashimoto's Thyroiditis
Celiac Disease
Diabetes
MS
Other Infection Associated Illnesses