Summary
Researchers at the Johns Hopkins Medicine Lyme Disease Research Center find that the bacteria, Borrelia burgdorferi (Bb), induces significant changes in the biology of antigen presenting monocyte-derived dendritic cells (mo-DCs) that play a vital role in innate human host immunity. Bb uniquely alters the repertoire of HLA-DR associated self-immunopeptides bound to MHC class II molecules expressed by mo-DCs. These biologic changes may make T cells aberrantly recognize the immunopeptides as foreign instead of as self. This research provides new insights into mechanisms involved in Bb infection-induced autoimmune illness and could help inform future treatment approaches for Lyme arthritis and other manifestations of Lyme disease.
Why was this study done?
With the incidence of Lyme disease (Borrelia burgdorferi) infection rising to over 300,000 new US cases annually, an increasing number of people are suffering with debilitating persistent illness. Bb infection triggers poorly understood immune processes, and a deeper understanding of the immune-mediated host response is needed. A tick bite can introduce Bb bacterium into the skin where monocyte-derived dendritic cells (mo-DCs) reside. Given the importance of mo-DCs in initiating the human adaptive immune response against pathogens, this study investigates the consequences of Bb interaction with human mo-DCs in vitro to determine if Bb alters the self-immunopeptide repertoire. There currently are no FDA approved treatments for chronic Lyme disease and a better understanding of this biology can potentially lead to improved treatment approaches.
How was this study done?
Mo-DCs were isolated from healthy subjects and exposed to the TLR-2 agonist lipoteichoic acid (LTA) or live Borrelia burgdorferi, the causative agent of Lyme disease. HLA-DR associated peptides were isolated and characterized by using Liquid Chromatography and Mass Spectrometry/Mass Spectrometry (LC-MS/MS). Data analysis was done using flow cytometry, BioVenn web application, and advanced biomedical computing.
What were the major findings?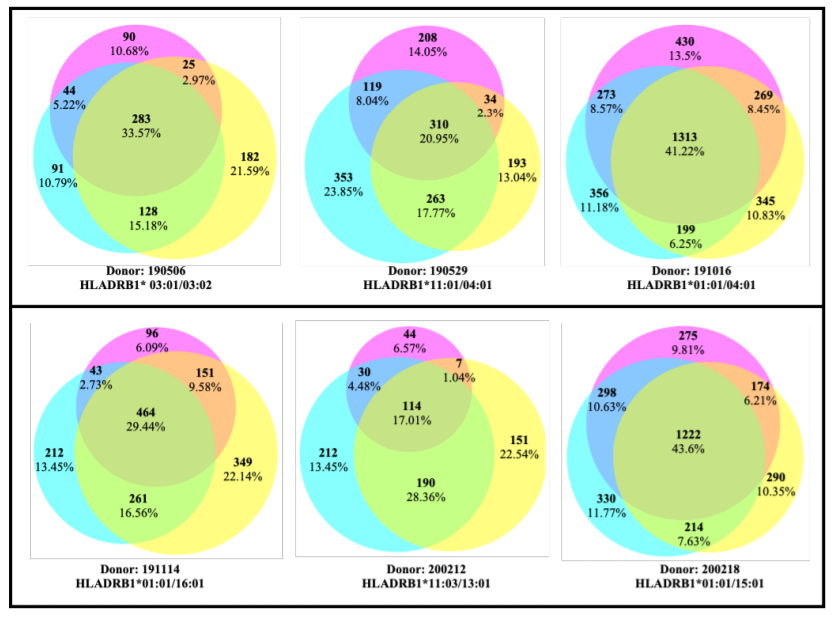 Results show that lipoteichoic acid-stimulated, B. burgdorferi-stimulated and unstimulated mo-DCs largely derive their self-peptides from similar overlapping sets of host proteins. However, lipoteichoic acid and B. burgdorferi stimulation promote the processing and presentation of new sets of HLA-DR associated self-peptides derived from unique protein sources. Activation of mo-DCs were shown to alter the self-immunopeptidome by changing the range of host self-proteins available for processing and presentation on the MHC class II molecules in mo-DCs.
What is the impact of this work?
This research contributes novel insights to understanding the interaction between dendritic cells and the Borrelia burgdorferi spirochete. Bb infection was shown to alter the self-immunopeptide repertoire of HLA-DR on the surface of mo-DCs. These findings of Bb pathogen-induced changes in mo-DCs have important implications for the role of human innate immune response function in autoimmune disease processes. Borrelia burgdorferi infection, combined with genetic susceptibility to autoimmune diseases, may trigger a breakdown in tolerance to self-antigens and contribute to dysregulated immunity and autoimmune illness in Lyme arthritis and potentially other manifestations of Lyme disease. Insights from this research could help inform future treatment approaches for Lyme arthritis and other manifestations of Lyme disease.
This research was supported by
Grants from:
the Global Lyme Alliance
the Steven and Alexandra Cohen Foundation
NIH grants UL1 TR003098 and P30 AR070254.
Publication Information
Gutierrez-Hoffmann MG, O'Meally RN, Cole RN, Tiniakou E, Darrah E and Soloski MJ (2020) Borrelia burgdorferi-Induced Changes in the Class II Self-Immunopeptidome Displayed on HLA-DR Molecules Expressed by Dendritic Cells. Front. Med. 7:568. doi: 10.3389/fmed.2020.00568