Summary
This report presents a Lyme disease case that was initially misdiagnosed in the spring of 2020 resulting in disseminated infection and sixth nerve palsy and highlights new challenges facing healthcare delivery in the era of COVID-19. The objective of this report is to describe the obstacles for diagnosticians during the pandemic and also to discuss the potential beneficial application of telemedicine in the early diagnosis of Lyme disease during the COVID-19 era as well as in the future.
Why was this study done?
This case report aims to reveal the added diagnostic challenges for acute Lyme disease during the COVID-19 pandemic and the potential beneficial application of telemedicine.
How was this study done?
A health history of the patient in this case study was conducted along with an evaluation of the healthcare workflow changes that occurred during the COVID-19 pandemic. A quarantine after a negative PCR test for COVID-19 resulted in a deferment in the patient's evaluation for other causes of the patient's symptoms and led to disseminated Lyme disease infection and sixth nerve palsy. The study documented symptoms, treatments, and also the role of telemedicine in Lyme disease diagnosis and patient care.
What were the major findings?
This study reports a well-documented case of acute Lyme disease with delayed diagnosis and initial confusion with COVID-19. The case illustrates the overlap of symptoms among disparate infectious diseases and the risk of a narrow approach and focus on COVID-19 in patients with undifferentiated fever that could be Lyme disease. In this reported case, the patient's Lyme disease progressed during a quarantine for potential COVID-19, with the eventual discovery of a skin lesion suspicious for erythema migrans, the Lyme disease rash. Delays in treatment resulted in dissemination of Borrelia burgdorferi infection and subsequent sixth cranial nerve ocular palsy.

This patient's description of his experience re-emphasizes the importance of doctor-patient communication, highlights new issues in miscommunication that may arise during the COVID-19 pandemic, and illustrates how telemedicine can help facilitate improved communication and diagnosis.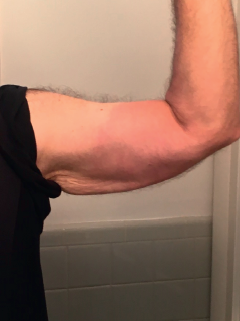 What is the impact of this work?
Misdiagnosis and delays in acute Lyme disease diagnosis can lead to bacterial dissemination and involvement of distant organ systems, most prominently the neurologic, cardiac, and musculoskeletal systems. Viral-like symptoms such as fever, myalgia, and fatigue in the absence of respiratory symptoms and in an endemic geographic location should prompt suspicion for Lyme disease. Although COVID-19 has overlapping symptoms with other conditions, the need to exclude COVID-19 infection should not distract a clinician from simultaneous evaluation for infectious diseases such as Lyme disease where early diagnosis and prompt treatment are crucial.

This case also illustrates the potential role of telemedicine in improving acute Lyme disease diagnosis. Telemedicine may remain a useful option for the evaluation of acute Lyme disease even after the COVID-19 pandemic subsides.
Publication Information
Cheryl B. Novak, Verna M. Scheeler, John N. Aucott, "Lyme Disease in the Era of COVID-19: A Delayed Diagnosis and Risk for Complications", Case Reports in Infectious Diseases, vol. 2021, Article ID 6699536, 4 pages, 2021. https://doi.org/10.1155/2021/6699536